My first love was always horses, specifically hacking and dressage. I competed at state and national level in advanced dressage and also enjoyed judging at hacking events. Horses soon turned to dogs, when we purchased our first English Springer 'Rothley Relentless' in 1992 from Angela Towle of the Rothley Kennels. Since t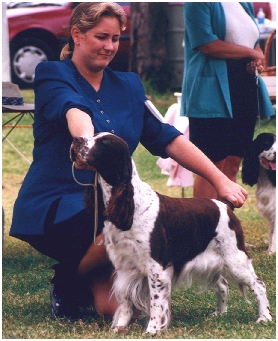 hat time we have been hooked on the breed.
Reibey English Springers foundation bitch was to beco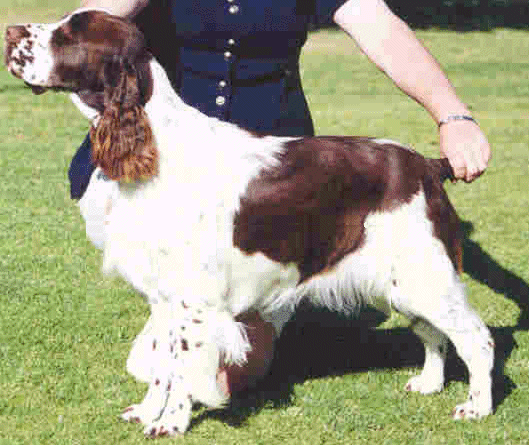 me the most important influence in our breeding future. The selection of our prefix 'Reibey' specifically named after her. Angela's generosity to offer us a quality proven bitch to begin our quest we believe was crucial to our beginning and future.
'Ch Rothley Mary Reibey' came to live with us in 1993 and she quickly amassed her 1000th CC point, a Specialty Best in Show and more. She returned to Rothley for a short time where she produced her final litter for Rothley. From this breeding to Gr Ch Alhambra Oscar Wilde came a puppy bitch named 'Rothley Centre Stage'. Finally Mary came home in tow with her puppy bitch 'Paige'. These two girls are where all Reibey Springers originate.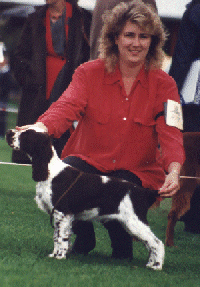 1995 I visited with Margaret Trask at Fairsky kennels in Victoria and fell in love with a baby dog who was to become Gr Ch Fairsky King On Hull, a multiple group and RUBIS winner. He was chosen as a suitable stud for Mary Reibey and how right we were. From this union came our beautiful Gr Ch Reibey Ashley Manor, a multiple specialty BIS, BIG and Royal CC winner. Ashley was bred to Ch Burchfield Savoir Faire which produced Ch Reibey Laura Ashley for Chris Baker of Vallendar kennels.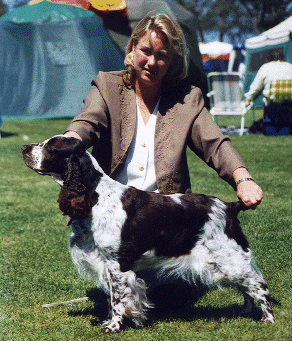 'Centre Stage' soon grew to be a lovely girl, from her first breeding to Ch Fairsky Southend On Sea came Ch Reibey Charlottes Web. She had great success at Sydney Royal in 99 but unfortunately never produced for us.
1996 we started to look at the possibilites of new bloodlines and in 1998 semen arrived from two dogs in Sweden. Multi Ch Mistily's Wizard From Oz and his son Windsong's Stravinsky. Paige was chosen as suitable for ai and a breeding to Stravinsky semen proved successful.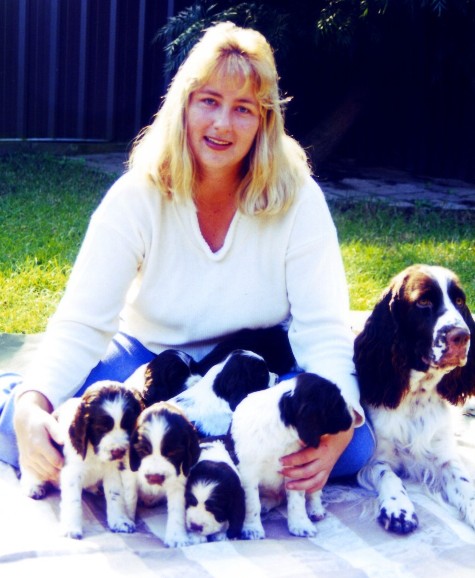 1999 saw the arrival in March of 7 puppies including Gr Ch Reibey Ingrid Bergman (ai) and Ch Reibey Swedish Rhapsody (ai). This breeding enabled us to go on with some of the very best Scandinavian lines.
2002 'Ingrid Bergman' produced her first litter, the sire was Ch Azucroft On The Prowl. Named after Ingrid Bergman movies came 9 boys including Ch Reibey Casablanca owned by Robert and Yvonne Lauder of Azucroft kennels and our own Gr Ch Reibey Under Capricorn.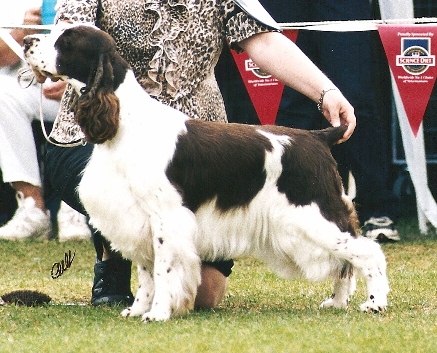 2003 Paige produced her last litter sired by Ch Rothley Old Bailey. From this litter were were blessed with Ch Reibey Ginger Rogers.
2004 saw the arrival of our 2nd litter from Ingrid Bergman. 11 puppies were sired by Ch Rothley Old Bailey including Ch Reibey Isabella Rossellini owned by Erica Riley and Reibey Britt Ekland co-owned with Cindy Gangell of Southend Kennels. In December Shannon finished successfully the judges training scheme and obtained her Gundog licence.
2005 came quickly and plans to breed Ingrid Bergman for the last time. It was to be a repeat of her first litter sired by 'On the Prowl' which first time around gave us 9 boys ! From this litter came a bunch of girls including our Ch Reibey Sophia Loren.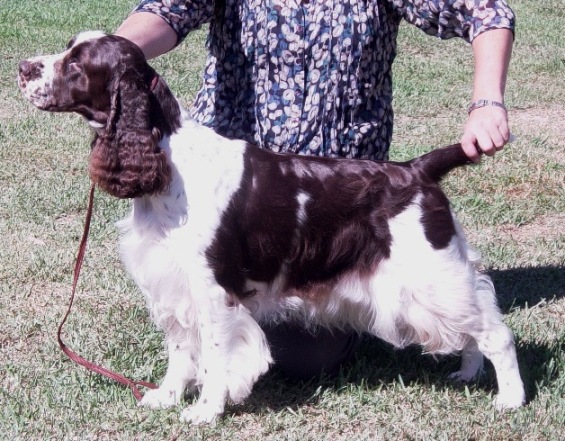 2006 started off with great news. Ch Kinsheran Nigella had sired the first litter by our Gr Ch Reibey Under Capricorn. I was very keen to take a look at the litter and in March I flew to Victoria to find an outstanding bunch of lovely puppies including a striking tri-coloured dog and three lovely ladies. I came home that day with Kinsheran Kalahari.
2007 a tragic start to the year, with the passing of our great 'Ingrid Bergman' Shortly after we lost our 'Ginger Rogers' who we had such high hopes for. Shannon completed her judges training for the Working Dog group. Shannon became a partner in Angela Towles' Rothley kennels in order for the Rothley prefix to continue. Angela and Shannon look forward to selected breedings into the future to ensure the Rothley heritage continues.
A fantastic year for more frozen semen success. A litter was born from our 'Ingrid Bergman' daughter 'Britt Ekland' who produced six smashing puppies sired by Nor/Swd Ch Mistily's Wizard From Oz. These puppies have grown to become some of our very best. Ch Reibey Blue Birds Fly (ai) owned by Lee-Ann Corbett. Ch Reibey Yellow Brick Road (ai) owned by Kinsheran Kennels in Victoria and our own Ch Reibey Over The Rainbow (ai). Also Reibey Kansas Twister (ai) the lone boy in the litter will become an important part of of breeding program in the future.

2008 saw the passing of our dear girl Ch Rothley Centre Stage. Paige was a great producer for us and a best friend to George. In August that year we welcomed the first litter from our Ch Kinsheran Kalahari. 'Mara' was bred to the black and white dog 'Blake' Ch Burchfield Nordic Ice (ai). This combination saw the union of Mara's Swedish bloodlines and the Norwegian blood carried by 'Blake'. We kept our first black and white, a boy called 'Jack' aka Ch Reibey Black Ice. We are very pleased with our young team who will take us into the years ahead.

2009 Another loss in the passing of our first homebred Champion. Grand Ch Reibey Ashley Manor was always an absolute delight and we will miss her. We decided to have a first litter from Erica Rileys Ch Reibey Isabella Rossellini. Due to the heat and bushfires in Victoria, we decided to send up fresh cooled semen from Ch Kinsheran Kilimanjaro. The timing was tight, but we were blessed with a lovely young lady, Ch Reibey Pippi Longstocking (ai) owned by Erica Riley.

Late in 2009 saw the arrival of the first litter from our Ch Reibey Over The Rainbow (ai) 'Buffy' was mated to our Ch Reibey Black Ice and produced 9 lovely babies.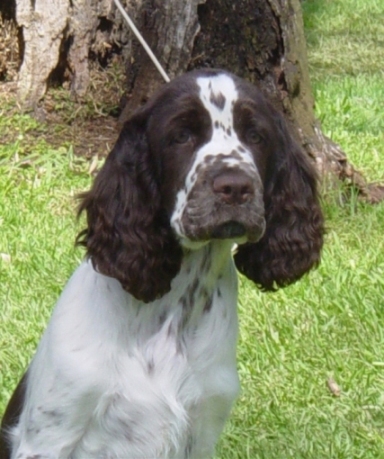 This litter is registered under the 'Rothley' prefix, the kennel name that Shannon and Angela Towle have in partnership. From this union came NZ Ch Rothley Flamenco owned and loved by Nigel and Robynne Trainor in New Zealand. 'Flame' is looking awesome and we are sure she will contribute to the 'Arawhiti' breeding program in the future. We kept a lovely young boy Ch Rothley Bolero, a Gundog group winner at just 9 months of age and titled at just 12 months.

2010 Buffy was mated to the highly performed Gr Ch Kinsheran Kilimanjaro and produced us a very exciting young puppy bitch. Reibey Soolaimon 'Rumba' has started her show career and shows plenty of promise. Three new Champions were made up this year.. Ch Rothley Bolero, NZ Ch Rothley Flamenco and Ch Reibey Pippi Longstocking (ai).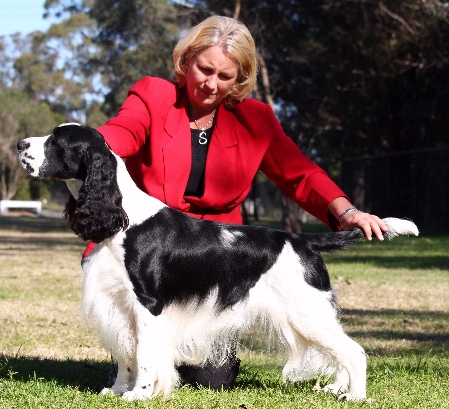 Shannon added the Hound Group to her judging qualifications this year. We are excited about our youngsters and for our two adults approaching their Grand Championships, we look forward to what 2011 will bring.


2011 We have had a great start to 2011 kicking off with a first All Breeds Best in Show on our Ch Reibey Black Ice. No doubt there will be more to come from his lovely black and white. We also made up another Grand Champion earlier this year. 'Mara' Gr Ch Kinsheran Kalahari finished off in great style.. just a few days short of being bred to frozen semen !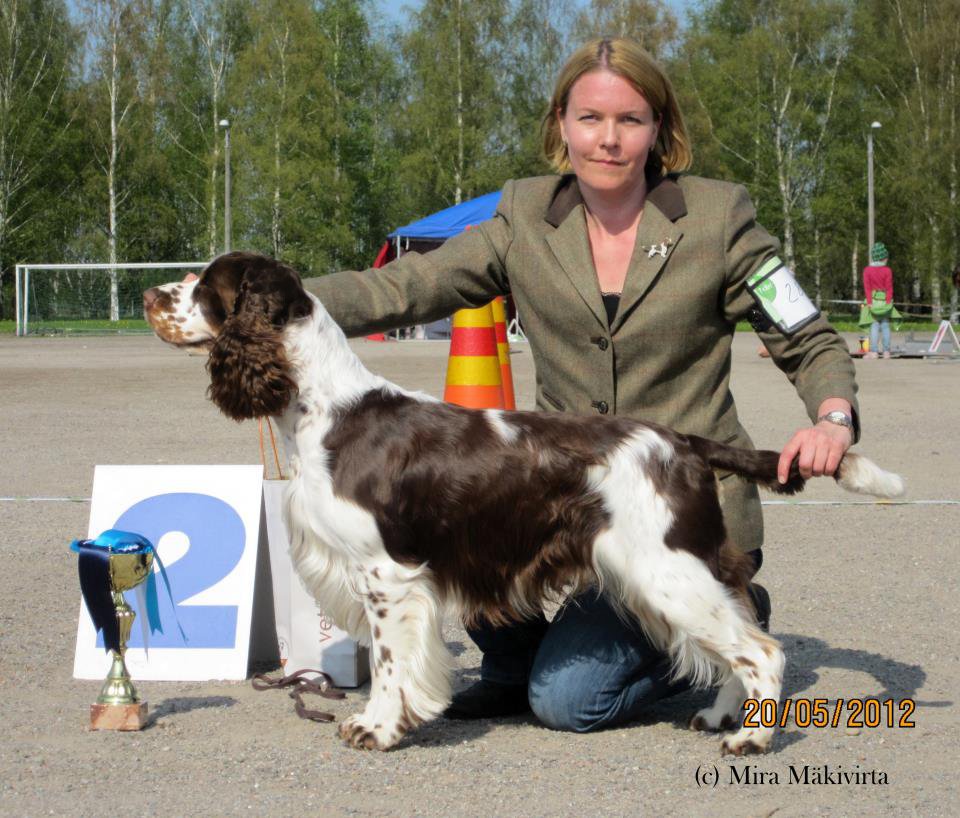 We have a beautiful baby from her sired by Windsong's Stravinsky (frozen semen), her name is Reibey Midsummer Windsong (ai). 'Hanna' has gone on to bring up her Championship and is a multiple group winner already.. Stravinsky was the sire of our 1999 frozen semen litter which produced Gr Ch. R. Ingrid Bergman (ai). Judges training has taken up a lot of time this year so far.. with not too many shows happening at the moment, but we hope the last half of the year we will be back in the ring more regularly.
2012 So far this year has seen Shannon complete her judges training for the Toy Group. The dogs have had some lovely wins so far this year with new Champions made up. A new Supreme Champion in Sup Ch Reibey Black Ice. 'Hanna' became Ch Reibey Midsummer Windsong (ai). Paul Boyd's Ch Reibey Ice Maiden finished her title in Queensland and has already passed her first tracking trial. Most recently another new Grand Champion in Lee-Anne Corbetts newly crowned Grand Ch Reibey Blue Birds Fly (ai). 'Ashley' finished her title by taking Best in Group. New frozen semen has arrived from the Norwegian bred Multi Ch Zelini's Premier League who lives in Finland. From the first (ai) just arrived is 10 lovely puppies produced by our Ch Reibey Over the Rainbow (ai). It will be exciting to watch these babies grow.

2013 saw 2 lovely puppies from our frozen semen litter hit the ring. They were to become Ch Reibey Premiere Downunder (ai) Daisy and the star that year was her brother Supreme Ch Reibey World Premiere (ai) he would go on to be the #1 ESS Puppy Nationally, #1 Gundog Puppy Nationally and # 3 Puppy All Breeds Nationally. In his first year, he would go onto win 2 All Breeds BIS and 1 All Breeds R/Up Best in Show.​ 'Rumba' produced a lovely litter to 'Jack' presenting us with a lovely puppy for Wendy Darnley in Victoria, he would become Ch Reibey Paint It Black CCD RN TD.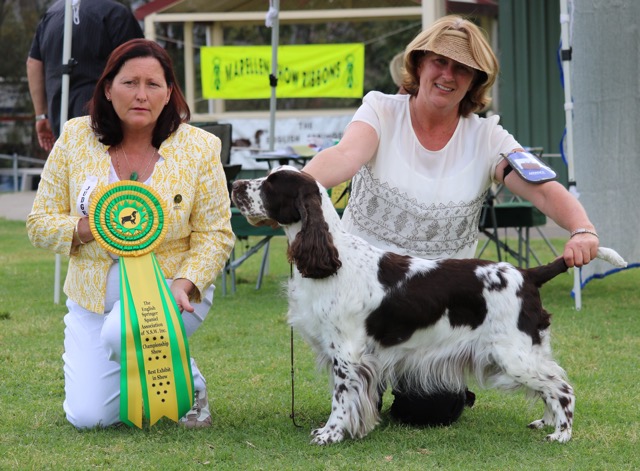 2014 ​'Daisy' would produce her first litter, sired by Sup Ch Kinsheran Kilimanjaro. From this litter came Ch Reibey Thrilla In Manilla (Anita Stewart), Reibey Rumble In the Jungle (Riley) and our Ch Reibey Million Dollar Baby. Oscar finished #2 ESS Nationally and #6 Gundog in NSW, notching up more All Breeds BIS wins. Ch Reibey Soolaimonn would go Res Bitch at the Victorian Specialty under Swedish Gundog Spec, Henric Fryckstrand. Judges training continued with Shannon adding the Utility group.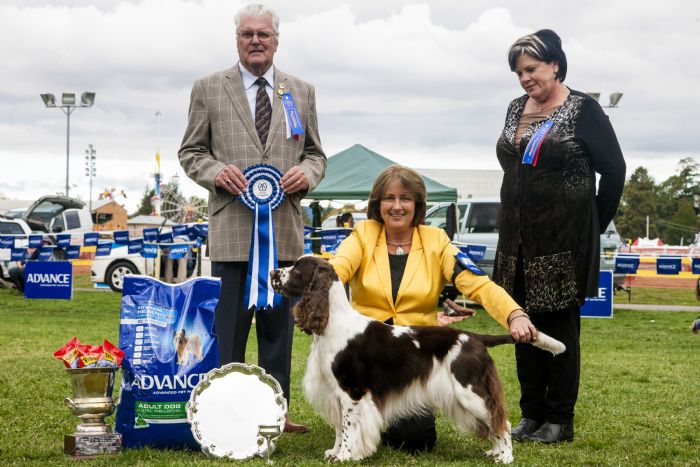 2015 What a year. Shannon would travel to Norway to judge the Spaniel Club, a trip of a lifetime and later also an appointment to judge in Thailand. Sup Ch Reibey World Premiere (ai) Oscar would continue to shine winning his 10th All Breeds BIS and his 11th BIS2. He would also take Res Dog CC at the Melbourne Royal Show ! We would again be #1 Breeder in NSW and #2 Nationally (tbc). Daisy would be the top bitch in NSW and Anitas Regan Ch Reibey Thrilla In Manila would be the #1​ ESS Rising Star in Victoria and # 2 Nationally. Ch Reibey Soolaimonn would produce a lovely bitch to our Zelinis frozen semen, Reibey A League of Her Own (ai) ' Inga' lives with Sharyn Phillips in Qld. 'Soolaimonn' later that year would win BIS at the ESS Ch Specialty in Sydney, her only show of the year. Our Debbie 'Ch Reibey Million Dollar Baby' would pass all her testing, obtain her title and finally make the long trip to Norway. She arrived to the safe hands of Heidi Fosberg just before Christmas. Shannon also finished judges training this year, obtaining her All Breeds Licence.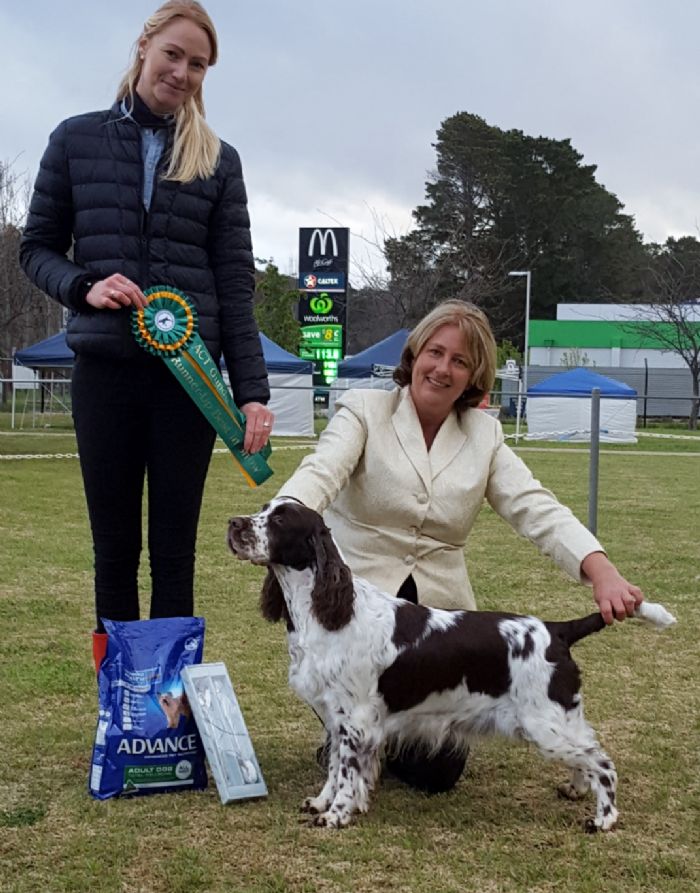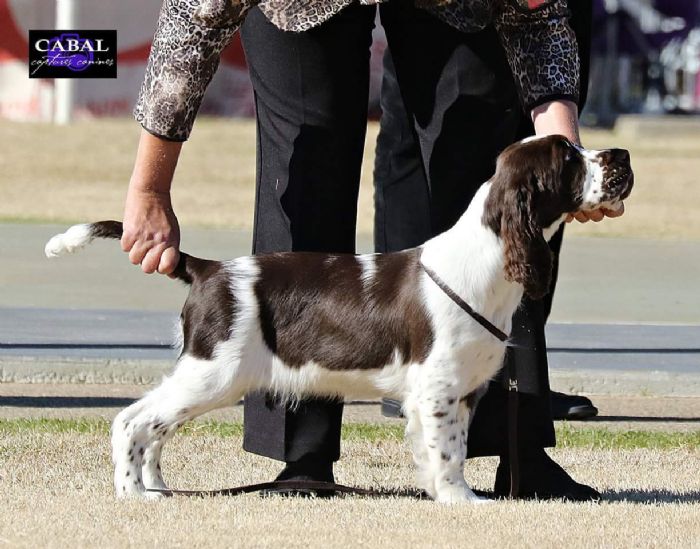 2016 Its been a great year so far. Supreme Ch Reibey World Premiere won Runner Up Show Dog of the Year for 2015. What a thrill. He has continued his year with many more Best in Show wins. We also welcomed new babies from Ch Reibey Soolaimonn and Multi Ch Zelinis Premiere League. We welcome Reibey Walk on Water (ai) Walker and Reibey Walking On Sunshine (Sierra).

​Ch Reibey Soolaimonn had her first show of the year after puppies. She is pictured here winning Runner Up Best in Show under Vibe Borregaard Madsen from Denmark. She would go onto to an even greater year winning BEST IN SHOW at the first of the Victorian Specialties under Stig Arne Kjellvold (Westaway Knls Norway) and
RUNNER UP BEST IN SHOW under Frank Bjerklund (Westaway Knls Norway). Shannon also had 2 overseas trips judging this year.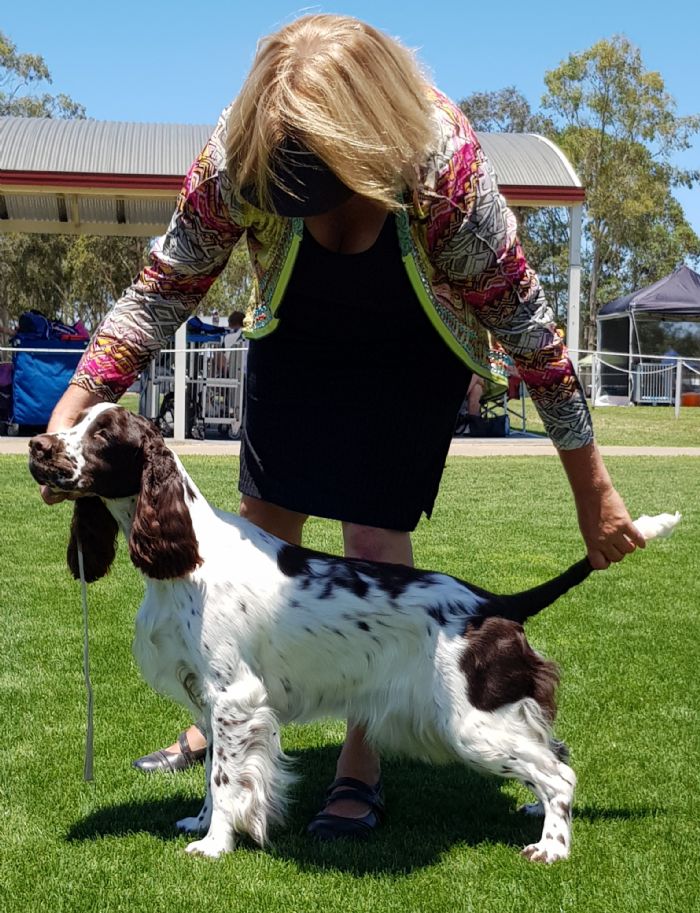 2017 would see a final litter from our Multi Specialty Show winner, Ch Reibey Soolaimonn. 'Rumba' was mated to Sth Afr/Aust Ch Lelicas Smasher At Whitesquall (bred in Sweden). They would give us 6 super puppies, of which a lovely girl 'Cilla' Ch Reibey CrazyLil Thing Called Luv would reside with us.
2018 saw the arrival of two beautiful boys from frozen semen.The sire Multi Ch Mistily's Wizard From Oz (Swd) and the dam was Wendy Darnleys Ch Reibey Walking on Sunshine (ai) RN CCD. We are pleased to present our Oliver kept from this litter. Ch Reibey Great Southern Land (ai) At just 14 months of age, is a specialty CC & RUBIS winner. All Breeds BIS & RUBIS winner and was the Puppy Sweeps winner and Res Puppy In Show at Sydney Royal 2019.

Over the next several years, our Cilla would be bred to our newly crowned Sup Ch Reibey Great Southern Land. This union has produced several Champions. Ch Reibey Aurora Australis 'Gretel', Ch Reibey Rhythm N Blues 'James', Ch Reibey Kosciuszko 'Oska' and Ch Reibey Reminiscing 'Audrey'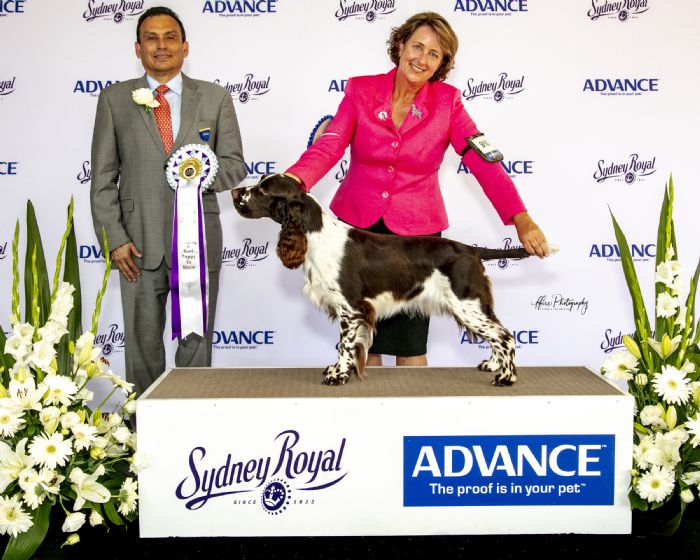 .

In 2019 we were fortunate enough to welcome a new team member. Jorden Morris contacted us about a puppy for showing and in 2020 she took the lead of Reibey Kosciuszko 'Oska' together they have gone on to take some fabulous wins including BIS, RUBIS and many group wins. In 2022 Jorden added 'Audrey' Reibey Reminiscing to her home.

In 2022 our dear friend Heidi Fosberg from Zelini kennels in Norway would produce a frozen semen litter sired by our 'James' Ch Reibey Rhythm N Blues. 6 puppies were born and several are being actively and successfully shown in Norway. Heidi repeated the litter in early 2023 and has had again more success with 7 puppies born. We look forward to watching them grow.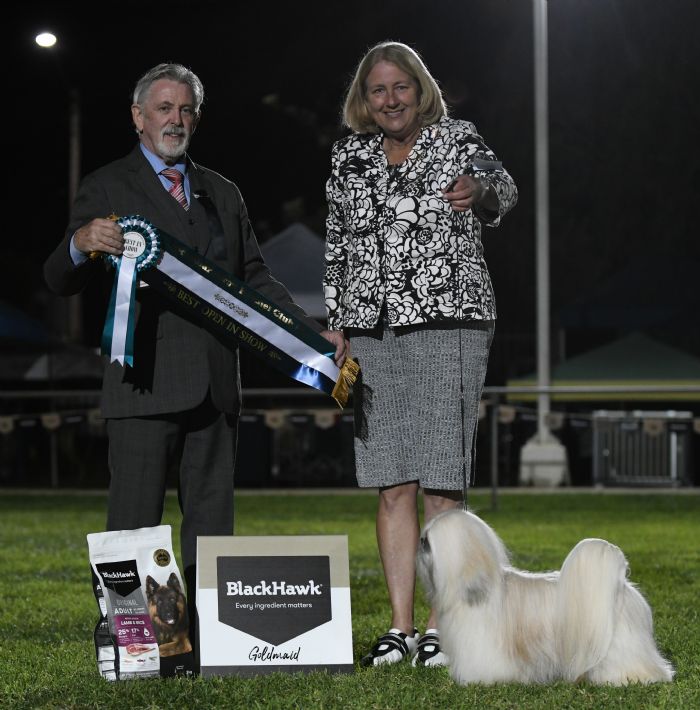 We also welcomed a new breed... our beautiful 'Paddy' arrived in 2022. Sup Ch Amesen Knick Knack Whack (ai) is co-owned with Amesen Kennels. He has been sparingly shown, but has taken out several groups and Best in Shows.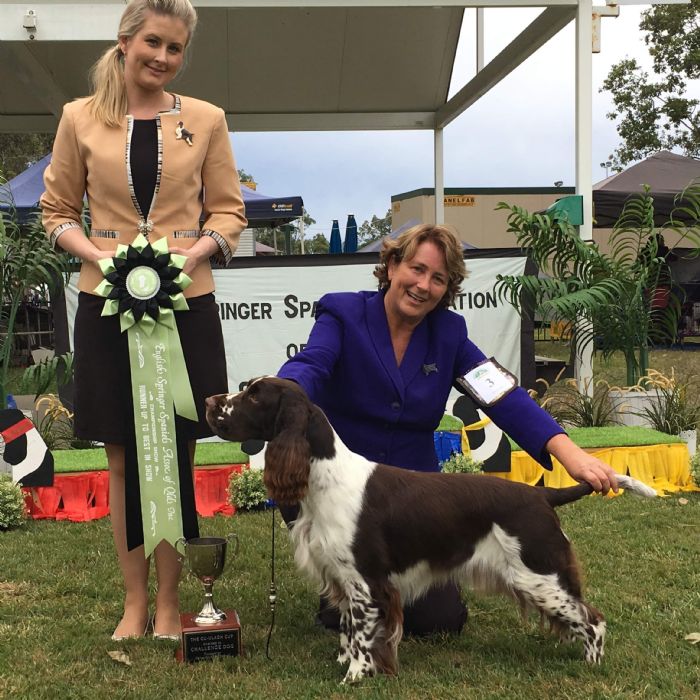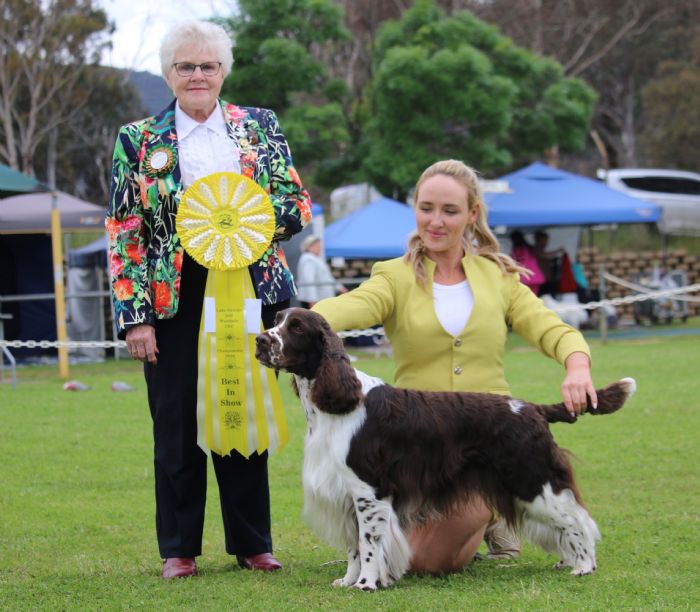 'Oliver' Sup Ch Reibey Great Southern Land (ai) has gone onto win many BIS at All Breeds and several Specialties.
We are pleased to announce that in 2023 we welcomed a new partner in 'Reibey'. Jorden Morris is now part of our kennel and we look forward to ongoing and continued success with her by our side.